So another common question I've been getting lately is what hardware should I buy for my computer?
What's the fastest CPU or Video card out there? Which should I buy?
Here's a handy website that lays it all out for you. This is especially useful if you build your own PC's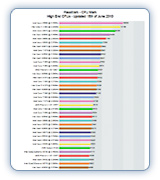 http://cpubenchmark.net/
_________________
Big D
* 2007 CanAm Outlander MaxXT 600 H.O
* 1996 Jeep ZJ - 3" ProComp Lift, BFG KM MT's, HP LED Light Bars, Magnaflow S.S. Exhaust.